Discover the multiple ways to make this powerful Pokémon shine in battle.
Introduced in the Pokémon TCG: Sword & Shield—Astral Radiance expansion, Radiant Pokémon are powerful Basic Pokémon that come with a caveat: You can only play a single Radiant Pokémon in your deck. Powerful cards with similar requirements have been seen in the past: Ace Spec cards debuted in Black & White—Boundaries Crossed, and Prism Star cards were first seen in Sun & Moon—Ultra Prism. The exact constraints differ slightly from era to era, but the general principle is the same: these cards can provide a significant advantage when utilized well, so their use needs to be carefully controlled.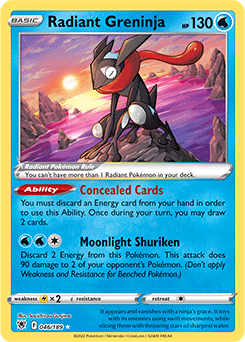 Radiant Greninja is one of the three Radiant Pokémon debuting in Sword & Shield—Astral Radiance, and it's shaping up to be a strong card in the metagame. Its Concealed Cards Ability allows you to discard any Energy card and draw two cards. Concealed Cards provides great support for decks that synergize with Energy in the discard pile.
The greatness doesn't stop there—for two Water Energy and a Colorless Energy, Radiant Greninja can attack with Moonlight Shuriken. This attack does 90 damage to two of your opponent's Pokémon for the price of discarding 2 Energy attached to Radiant Greninja. This attack is incredible for decks that can make use of it, both in setting up Knock Outs on bulkier Pokémon and in picking off vulnerable Pokémon on the Bench.
To showcase just how powerful this card can be, we've asked three Pokémon TCG experts to put together three distinct decks that leverage the strengths of Radiant Greninja. Read their strategies and then try out this awesome Pokémon in your next deck!
Usually, a key part of creating a Pokémon TCG deck is having a central strategy that can be executed reliably game-after-game—with 60 cards, it's hard to do too many crazy things! That makes building around a Pokémon that you can only include one of like Radiant Greninja a particularly interesting challenge. Inherently, there are some problems: What if it's Knocked Out? What if it's in the Prize Cards? Radiant Greninja can't be a core attacker on its own; it's best equipped to serve as a supporter to a different, larger strategy.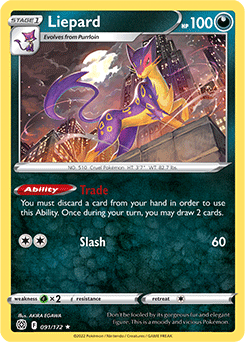 When I see Radiant Greninja, the first thing that jumps out is its Concealed Cards Ability. This is an Ability we've seen before, and it's a good one for both thinning cards out of your own deck and for drawing new ones—discard-one-to-draw-two is a powerful effect. While it most recently appeared on Liepard, this effect is most famous for its appearance on Zoroark-GX, which ruled the Standard format for most of the time it was permitted. Radiant Greninja is obviously a little different; being a Basic Pokémon makes the effect a lot easier to use quickly, but its requirement of an Energy card makes using it consistently a lot more difficult.
At least for the moment, I'm not super impressed with Moonlight Shuriken. While the Standard format currently does have a variety of options for accelerating Water Energy, the two Water and one Colorless cost is nevertheless a bit discouraging. Plus, Rapid Strike Urshifu VMAX is among the Standard foes that makes Manaphy a reasonably popular inclusion these days, rendering Moonlight Shuriken much worse. However, as long as Drizzile is around, having the ability to remove two of your opponent's Sobble or Drizzile from play at once will be quite exciting. It's a limited application, but that's okay: the Ability makes Radiant Greninja broadly useful, especially in any deck that wants to use Energy from the discard pile.
With an eye toward the current Standard format, Darkness is a good type to have for Weakness purposes, so I've chosen to work with a Pokémon that thrives on Energy being in the discard pile: Galarian Moltres! Galarian Moltres V quite enjoys having Darkness Energy in the discard pile as things are, but with Dark Patch making its return, that effect is only going to grow. Galarian Moltres is one of my favorite cards right now, especially in combination with Klara, which takes advantage of the discard, too! All-in-all, things start to take shape:
Energy Cards
10

Darkness Energy

3

Water Energy
Trainer Cards
4

Professor's Research (Professor Rowan)

3

Boss's Orders (Cyrus)

3

Marnie

1

Klara

1

Roxanne

2

Temple of Sinnoh

1

Training Court

4

Energy Switch

4

Quick Ball

4

Trekking Shoes

4

Ultra Ball

3

Dark Patch

2

Air Balloon

2

Choice Belt