Find out why the Spatial Pokémon is blasting off in competitions around the world.
By Tord Reklev, Contributing Writer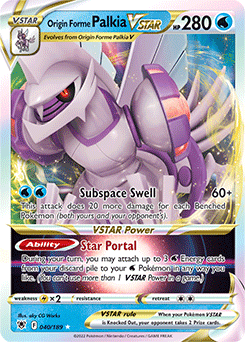 The new Pokémon TCG: Sword & Shield—Astral Radiance expansion has already made a real splash in the realm of the Pokémon Trading Card Game metagame thanks to a few powerful Water-type Pokémon. Origin Forme Palkia VSTAR in particular has quickly proven to be one of the new cards to beat. At the Regional Championships in Melbourne, Australia—the first Regional Championships in which the set was legal—Origin Forme Palkia VSTAR made up the entirety of the Top 8. Variants of the deck surfaced throughout the tournament, showing that there is more than one way to harness this Legendary Pokémon's power.
One thing that all these decks had in common was the pairing of Palkia with the new Radiant Greninja. The synergy between these two cards is nothing short of amazing. Let's dive in and explore how and why!
Pokémon
A Dream Team: Origin Forme Palkia VSTAR and Radiant Greninja
Looking at Origin Forme Palkia VSTAR, the first thing that I noticed is how similar its Subspace Swell attack is to the attacks of the Legendary Beasts Suicune V, Raikou V, and Entei V. The difference in base damage is significant—Subspace Swell starts at 60 damage (instead of 20) and adds 20 damage for every Benched Pokémon in the game. If both players have five Benched Pokémon, the attack will do an impressive 260 damage. Add Choice Belt and Inteleon's Quick Shooting Ability to the mix, and you will see how the damage can add up quickly and threaten a Knock Out on just about any Pokémon. This attack requires only 2 Water Energy, making it one of the most cost-effective attacks in the game.
Origin Forme Palkia VSTAR's Star Portal Ability is also impressive—it can attach 3 Water Energy cards from the discard pile to any of the player's Water-type Pokémon in play. Energy acceleration has historically been one of the strongest effects in the game, and this time is no exception.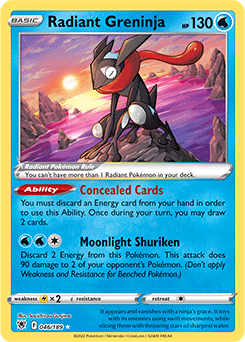 With Sword & Shield—Astral Radiance, a new kind of Pokémon card was introduced: Radiant Pokémon. Like Pokémon Star from the EX era, you can only include one of these powerful Shiny Pokémon in your deck. Even with players being limited to a single Radiant Pokémon, these cards will have a big impact on how games are played out. Radiant Greninja seems to be the perfect fit for Origin Forme Palkia VSTAR, as its Concealed Cards Ability synergizes beautifully with Origin Forme Palkia VSTAR's own Star Portal Ability. Moving Energy cards to the discard pile while simultaneously drawing cards is good on its own, but being able to attach the discarded Energy back into play with Origin Forme Palkia VSTAR makes it even better.
In addition to its strong Ability, Radiant Greninja's Moonlight Shuriken attack should not be underestimated. For a long time, Rapid Strike Urshifu VMAX's G-Max Rapid Flow attack has arguably been one of the best in the game: it can target two of the opponent's Pokémon for 120 damage. The damage that Radiant Greninja's attack does is slightly less, but it's still enough to take down popular support Pokémon in a similar fashion. Sobble and Drizzile, among others, will be prime targets for this attack. And thanks to Origin Forme Palkia VSTAR's Star Portal Ability, Radiant Greninja can potentially attack as early as the second turn of the game. This puts a lot of pressure onto the opponent and can start swinging the Prize card tally into the Water deck's favor.
Now that we have looked at the stars of the deck, it's time to explore my current favorite way of playing with these powerful Water-type Pokémon cards:
Origin Forme Palkia VSTAR
Energy Cards
8

Water Energy
Trainer Cards
4

Irida

2

Boss's Orders (Cyrus)

1

Melony

1

Nessa

1

Raihan

1

Roxanne

1

Temple of Sinnoh

4

Level Ball

4

Quick Ball

3

Capacious Bucket

3

Scoop Up Net

2

Evolution Incense

1

Battle VIP Pass

1

Choice Belt

1

Hisuian Heavy Ball

1

Pal Pad

1

Tool Jammer

1

Ultra Ball